Today is the official release day for RAISED BY WOLVES. I woke up this morning to a twitter-box full of messages, an inbox full of emails, and a bunch of google alerts about new blog reviews. I feel like it's my birthday or something. I've got butterflies in my stomach, and I kind of want to happy-cry, all of which is so surprising, because it's been a long time since I've felt this way about a release. I think part of it is because my publisher, the lovely Egmont USA, has been so supportive of the book, and part of it is because RAISED BY WOLVES was one of those "I always wanted to write a book like that" books for me. It was also an "I don't know if I
can
write a book like that" and a "well, I'm going to try, just for the fun of it and the sheer love of writing" book. And now it is REAL and there are BOOKS and the books are in STORES.
Eep!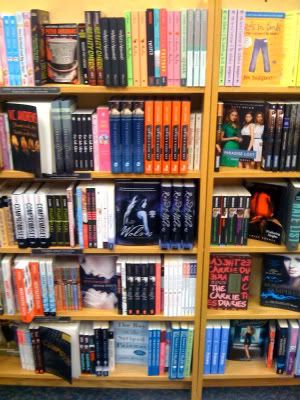 So what kind of book
is
Raised By Wolves? I'd call it
coming of age-action adventure-urban fantasy-romance
, and somehow, it has more of ALL of those elements than any of my previous books. It's the first book I've written that, while still having some lighter moments, has some darker ones, too. It's very much about family. And it's the first book for which I've really gotten to use my background as a psychology/animal cognition person! The animal behavior research appears in the book in obvious ways- pack hierarchy and structure, non-verbal communication, animal instincts- but I think the psychology half of things wormed its way in there, too, because the premise embodies the whole "nature versus nurture" debate. Bryn is human. She was raised by werewolves. As I wrote the book, I had to figure out which parts of her personality might be more wolf-like, just based on how she grew up, and which parts would be fully human, because that's the way she was born. The premise also let me write a girl who is objectively badass, but who lives around people who are so much stronger that she gets to be vulnerable, too.
In celebration of the release, I give you this
Guest Post
and these reviews!
"The mysteries of Bryn's identity should keep readers hooked, and there's plenty to discuss in terms of gender roles and Pack politics." - Kirkus Reviews
"Fascinating glimpses into pack family dynamics add depth and texture to this latest entry in the werewolf oeuvre... Barnes has produced an appealing addition to the ranks of contemporary fantasy-horror." - Booklist
"RAISED BY WOLVES is, quite simply, the most compelling YA werewolf book out there." - Melissa Marr, New York Times Bestselling Author of Wicked Lovely
"An action-packed, intense, romantic story...The mature sensibility in both the chemistry between characters and the action-driven plot make this book a crossover for adult paranormal readers, especially fans of adult books by Rachel Vincent, Patricia Briggs, and Kelley Armstrong." -Official Amazon.com Review (also written by Melissa)
To see what READERS are saying, check out
these reviews
on Good Reads!